Ergo group tables
Price Request / Product Enquiry
ErgoGroup tables are handicap friendly, ergonomic and height adjustable group tables. When a table serves as a gathering point for different people with different degrees of mobility, it is essential that the table is flexible and takes the users' needs into account.
ErgoGroup tables are suitable for everyone, regardless of their physical capabilities. For example, it is designed without any crossbars under the tabletop. That allows wheelchair users free access to the table. You can also adjust the height to set the table to a comfortable level, and you can mount castors with brakes if you would like the freedom to move the table.
The table has a gray frame and a gray laminate tabletop. The result is an elegant group table you can use in private homes, care centers and workplaces.
Description
Ergonomic group tables in handicap friendly design
At home, at work, in school and care centers, people need to get together and no matter if the purpose is to work, read, eat or talk, the gathering point is often a table.
As the table is the hub, it must also be equally suited for all kinds of people and mobility. It should consider the needs of people with and without limited functional ability, it should be flexible, and it should have a modern design that matches the homes, care centers and workplaces of today and in future.
A height adjustable table in quality materials
When different people with different physical needs use the same table at the same time, it is essential that the table is height adjustable. That is why you can adjust the ErgoGroup table from 56-90 cm in height by using a small handle.
You put the handle on the height adjustment mechanism on the upper part of the table leg to lower or raise the table. The crank is maintenance free, so you can be sure the height adjustment will work perfectly in the long term.
A modern and timeless design
The table has a light gray frame and a practical matte gray laminate table top. The result is a simple, stylish and discrete look that fits well in both private homes, workplaces, care centers and at schools.
All edges and corners are nicely rounded. It gives the table a smooth finish that is comfortable to touch.
When the table is used for meetings, dining, teaching or other activities, it is important that it is easy to clean. The laminate tabletop, the rounded corners, and the smooth surfaces are free from dirt traps ensuring a cleaning friendly table that will keep looking good after you wipe it off with a moist cloth.
Three tabletop sizes and accessories that make everyday life easier
ErgoGroup table is available in three sizes:
165 x 100 cm
200 x 100 cm
240 x 100 cm
If you need a larger table, you can place more tables in continuation of each other. That is a flexible solution to create large group tables that can seat for example 12 or 16 people.
In some cases, it can be an advantage to mount brake wheels on the table, e.g., if you need to move the table from time to time. The castors with brakes make it effortless to bring the table to a new position, and you can be assured that the table stands safely and fixed when the brakes are on.
Group tables that suit disabled people
Naturally, wheelchair users have free accessibility to the table as there are no crossbars underneath the tabletop, and users who need extra support can use the arm supports. They allow the user to rest their forearms and at the same time, they provide slight body support for a more balanced position.
ErgoGroup table is a robust, durable table in an elegant design. It makes it well suited for many purposes and users with special needs. To put it simply: It is a table for dining, meeting, working and much more. At the same time, it is popular for both private users and professionals because it is high-quality and will last for years – both with regards to functionality and design.
Ergo Group Table
Tabletop type A size 165×100 cm
Manual height adjustment 56-90 cm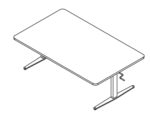 Ergo Group Table
Ergo Group Table
Tabletop type A size 200×100 cm
Manual height adjustment 56-90 cm
Ergo Group Table
Tabletop type A size 240×100 cm
Manual height adjustment 56-90 cm
ErgoGroup table technical data
Max. user load: 100 kg
Height: 56-90 cm
Depth: 100 cm
Width: 165, 200 or 240 cm
Interior width: 135 cm
Standard colour: light grey
Related products